The rural riverside town of Nong Khiaw is the ideal place for a relaxing retreat. Spend two days absorbing the rugged nature of northern Laos with scenic countryside walks, village visits and boat trips. Embrace the tranquillity of rural Laos and the traditional ways of life of the people who live there.  
After breakfast in Luang Prabang, our guide and driver will provide a hotel pickup and a 2.5 hour transfer to Nong Khiaw. After checking in to the hotel,  enjoy lunch at the Nong Khiaw Riverside.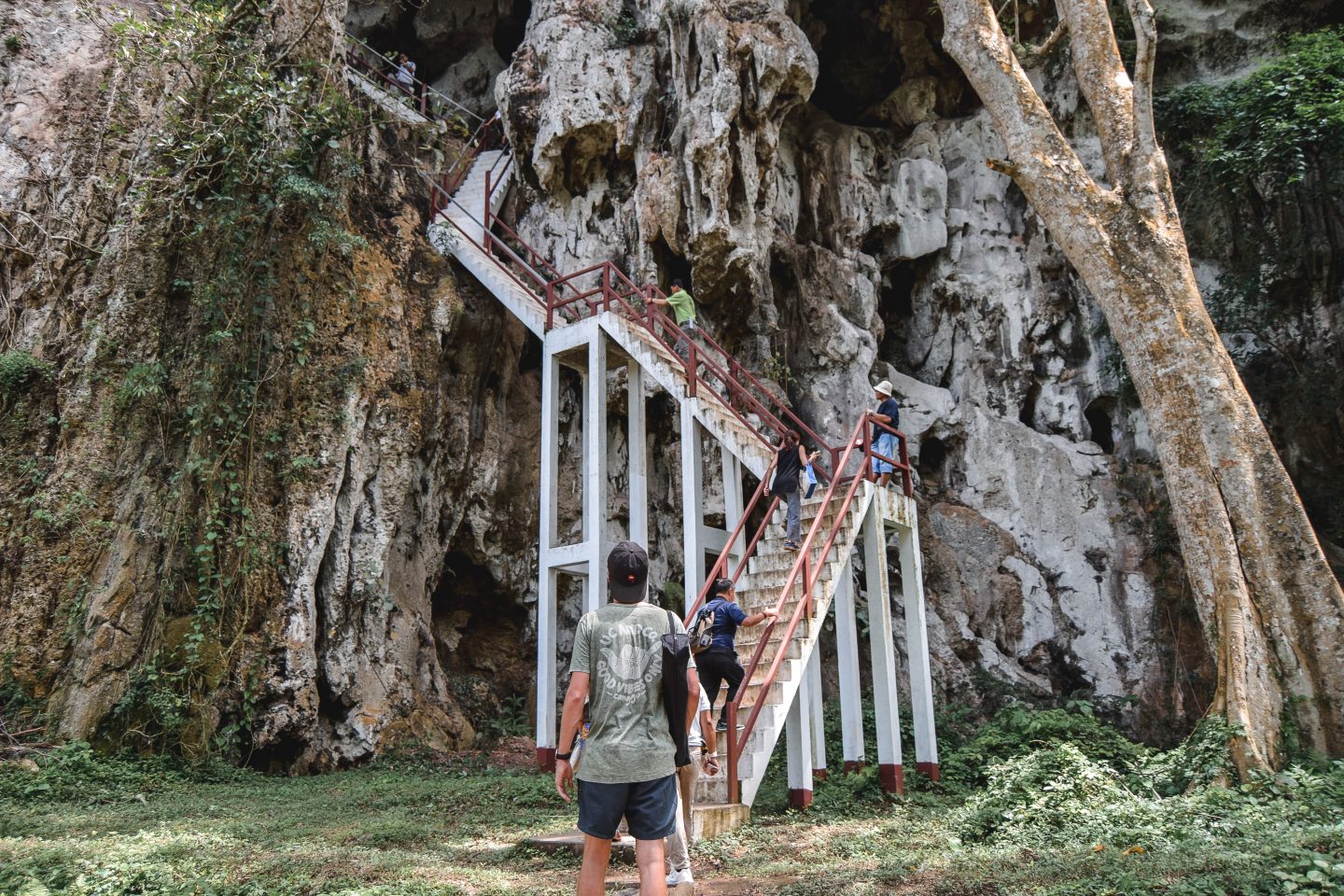 After lunch, visit the historical cave of Phathok. The Nong Khiaw villagers used this cave as a war shelter during the "Secret War", to shelter people from bombs dropped in the region. It is about a 30 minute gentle walk from Nong Khiaw town and leads through beautiful scenery. Learn more about a secret part of Laos' history during this guided cave exploration. From the cave, enjoy beautiful views of the surrounding rice paddies and valley. Walk back to Nong Khiaw along a small path through the rice paddies.
Enjoy a sunset over the river with a choice of local restaurants within walking distance.
Overnight in Nong Khiaw
Enjoy breakfast overlooking the river as the mist hangs in the valley.
This is a fantastic half day scenic trek suitable for all ages. Experience the stunning Nam Ou river by long boat passing villages surrounded by cast rock mountains. You trek an easy walk to the hidden Tadmok Waterfall where you can have a refreshing swim. You will visit a delightful and friendly local Khmu village.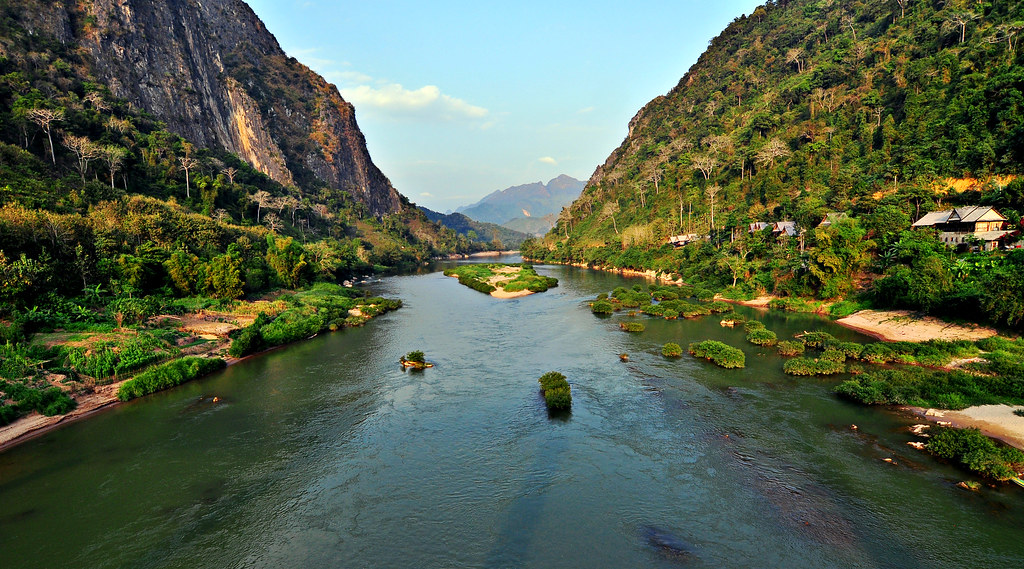 We'll start with a traditional boat, complete with a roof to shade against the sun and any rain, riding upstream on the Nam Ou for 40 minutes. Surrounded by mountains and passing villages nestled in the forests, you will see Buffalo bathing in the river, people fishing and often children swimming in the river. It is an idyllic location and will give you a sense of peaceful serenity and you enjoy your boat ride.
You will visit the Sopkhong Village, a small Khmu village where you can learn about their way of life. Then we'll trek through local farmland and rice paddies to the start of the jungle and discover the beautiful limestone TadmokWaterfall. You can relax and enjoy a refreshing splash in this perfect setting where we will also serve you lunch.
After spending 30-40 minutes here we head back to the village along a small dirt road arriving at the river where we take a 5 minute boat ride to another small Khmu village, Huay Hoy.
We then take the boat for 35 minutes back to Nong Khiaw.
Overnight in Nong Khiaw
After a final breakfast along the river, enjoy the scenic 2.5 hour ride from Nong Khiaw to Luang Prabang.
Arrive in Luang Prabang with the remainder of day open to leisure.
Our Services Include:
Hotel accommodation in shared twin/double room
Meals as mentioned in the itinerary (B = Breakfast, L = Lunch, D = Dinner)
Tours and transfers by private air-conditioned vehicles (boat is not air-conditioned)
English speaking local guide (for other languages supplements apply)
All entrance fees as indicated in itinerary
Our Services do not Include:
International and domestic flights
Meals other than mentioned above
Camera/video entrance fees
Personal expenses
Travel insurance, tips, visa
Other services not clearly indicated in the package inclusions above
Address: 102 H50 Alley 41/27 Vong Str, Ha Ba Trung Dist, Hanoi
Core activities:
- Vietnam Luxury Tours, Vietnam Adventure Tour, Vietnam Helicopter Tours, Vietnam Seaplane Tour, Vietnam & Southeast-Asia Lux Golf Holiday
- Vietnam Marathon Trekking Tours, Quang Binh Caves Expedition & Adventure, Luxury Cruise Tours, Hotel Booking, Meeting, Incentive, Conferences, Event, Car Rental, Visa Renewal & Extension
- Luxury Southeast-Asia Tours, Vietnam Cambodia Tours, Vietnam Laos Cambodia Tours, Vietnam Thailand Tours, Thailand Cambodia Vietnam Tours
CALL US 24/7
READ MORE: