Tu Lan Cave Encounter 2 Days
Highlights
Wet caves (i.e. those with rivers) are the focus of the two-day Tu Lan Cave Encounter. Swim and walk through four of them and sleep in one of our most peaceful campsites next to a waterfall. This tour is for travelers who want to explore the underground adventure playground of Tu Lan but only want to spend one night in the wilderness.
Swim and wade through underground rivers.
Explore four wet caves in the Tu Lan system.
Trek over jungle hills and mountains.
Sleep in a peaceful campsite with a waterfall.
Tuck into freshly cooked meals during the journey, plus snacks.
Marvel at beautiful and unusual cave formations
Key Information
Two days exploring, one night camping.
Not available in October due to annual floods. Available throughout the rest of the year.
Tours depart every Tuesday, Thursday and Saturday.
Group size: 10 people maximum.
Age: 16 years and above. 15 year olds with experience will be considered.
Distance: 12km trekking, 2km caving, 1km swimming in the caves, 300m elevation gain, 10m ladder climb.
Difficulty: Level 2 • moderate.
Itinerary (below) is subject to change with the weather. Paths can be slippery and muddy after rain.
Itinerary
Due to the weather conditions the itinerary may need to be changed at short notice. The paths can be muddy and slippery after rain. Lifejackets must be worn when swimming in the caves.
Day 1: Phong Nha – Tan Hoa – Ken Cave – Tu Lan Campsite
07:30 - 08:00 Pick up and one-hour drive on Day 1 to the Oxalis Adventure office in Tan Hoa, located 70km from Phong Nha. Here you will have a tour safety briefing, sign the release form and receive the required equipment for the tour.
The trek starts with a flat path past peanut fields and grazing buffalo and cows. A river crossing leads to a short but steep and rocky uphill section, followed by a downhill descent into the next valley. Cross the valley on a flat path to enjoy a picnic lunch in the entrance of Hung Ton Cave. More hills and jungle trekking before you drop down to Tu Lan Valley and your camp for the night.
Finish off the day with a swim into Ken Cave. Dinner is prepared and served by the porter team. After dinner enjoy the evening games before sleeping in your comfortable tent. Composting toilets are provided at camp.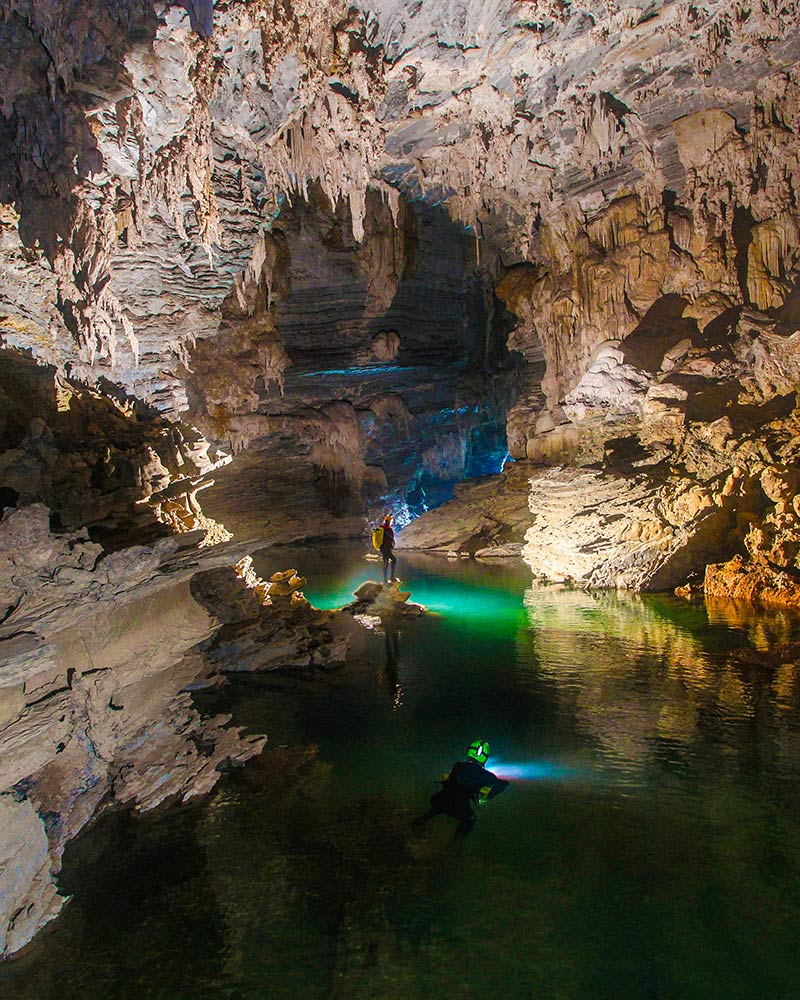 Day 2: Tu Lan Cave – Kim Cave – Hung Ton – Tan Hoa
The following day you will trek and swim through Tu Lan Cave and Kim Cave to arrive at the magnificent To Mo Valley. Enjoy some snacks at the valley then continue the journey by another swim through Hung Ton Cave. In Hung Ton Cave you will climb a 10-meter metal ladder with the extra protection of a safety line. Beautiful views from the entrances into the jungle, refreshing swims, dry passages and amazing formations will give you many opportunities for photos. After the third cave, the return is the same as the first morning. Snacks will be provided at To Mo Valley and Lunch in the village is served at a local restaurant after a welcome shower.
Transfer to Phong Nha arriving at around 18:00.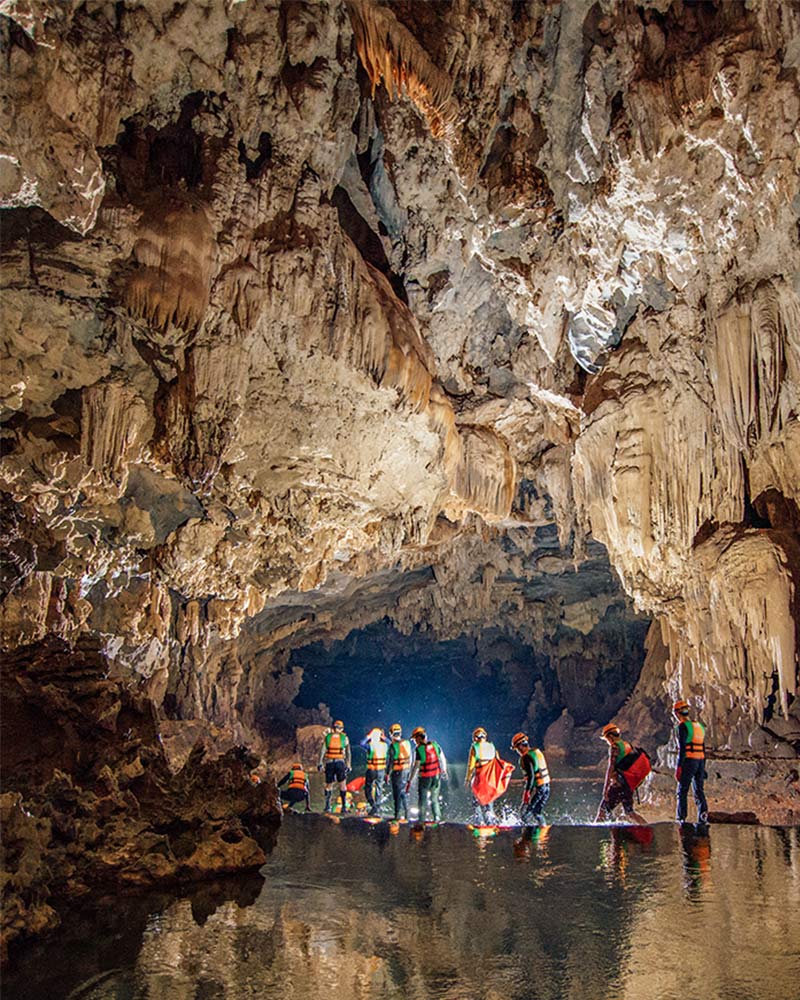 Adventure Level 2 · Moderate
2-day tour
Easy to moderate trekking
12km of trekking including up to 2km of caving
Total elevation gain: 300m
1km swimming in the caves
There will be some rocky terrain, short but steep hills, underground swims and river crossings and a 10m ladder climb with a safety rope, operated by the safety team.
WE WILL PROVIDE
Camping gear: tent, camp light, sleeping bag, mattresses, pillow
Caving & safety gear: caving helmet, caving headlight, life jacket, gloves
Light PVC backpack (if you do not want to take your own, as it will get wet)
Basic canvas trekking boots (only if you do not have your own pair) sizes 36 – 46
Meals: picnic lunches (day 1, day 2), breakfast (day 2), dinner (day 1)
Professional English-speaking tour guide and safety assistants
Porter team to carry all camping gear and prepare all meals
Shared dry box for phones and small cameras (limited availability for larger cameras)
Water filter (used only by guide and porters)
Basic camping facilities with eco-friendly compost toilet using western toilet seat
First Aid Kit and Medical Rescue Equipment (application by guides and porters only)
Secure Storage Facility at Oxalis Headquarters to store all luggage you will not be taking on the trek.
YOU WILL NEED TO BRING
1 long (easy to dry) pants and 1 long sleeved shirt to wear during the trek (quick dry)
1 pair of shorts and t-shirt to wear at campsite plus your swim suit.
1 pair of trekking boots/shoes – difficult terrain, good footwear necessary. Gore-Tex/waterproof boots are NOT recommended as they do not drain well (if you prefer your own comfortable pair)
1 pair of flip flop (sandals) for campsite
1 medium size towel
2-3 pairs of calf length densely woven socks (not ankle socks!)
Personal items: mosquito repellent, sunglasses, hat, camera, underwear, toiletries
VIET GREEN LUXURY TRAVEL
Address: 102 H50 Alley 41/27 Vong Str, Ha Ba Trung Dist, Hanoi
Quang Binh - Branch Office
Add: 64 Hoang Dieu, Dong Hoi, Quang Binh
Core activities: Luxury Indochina Tours, Vietnam Luxury Tours, Vietnam Adventure Tour, Vietnam Helicopter & Seaplane Tour, Laos Balloons Tour, Marathon Tours, Caves Expedition & Adventure, Cruise Tours, Hotel Booking, Meeting, Incentive, Conferences, Event, Car Rental, Visa Renewal & Extension
CALL US 24/7
>>>READ MORE