Due to the weather conditions the itinerary may need to be changed at short notice. The paths can be muddy and slippery after rain.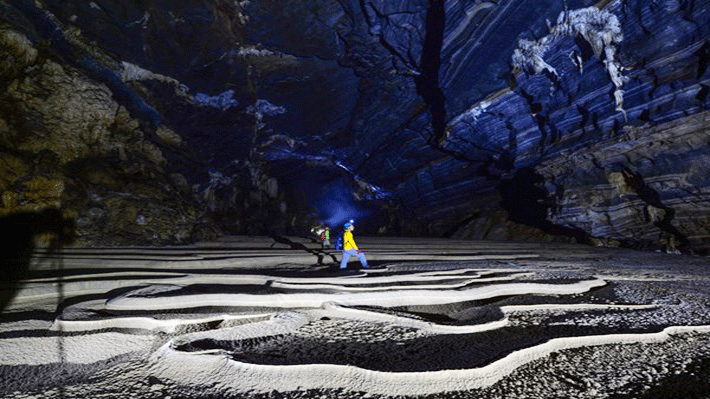 Morning: Tan Hoa - Hang Tien 1
07:00 - 07:30 Pick up and one-hour drive on Day 1 to the Oxalis Adventure office in Tan Hoa, located 70km from Phong Nha. Briefing and tour preparations are here.
The trek starts off with a steep uphill section, leading into the jungle. Some rocky sections at the top, and then a similarly steep descent before the trail levels off and you enter the valley. Turning west the trail is a large jumble of rocks to pick your way over, with the help and direction of the guide and safety team. The huge entrance is at the head of the valley. Enjoy some snacks before starting the cave exploration. As you enter the cave you will appreciate the full size of the passage. Plants and algae cover many of the calcite formations. Further into the cave you will see many unusual cave features such as a ceiling dome, and multiple layers of rock, giving the walls a stripy appearance.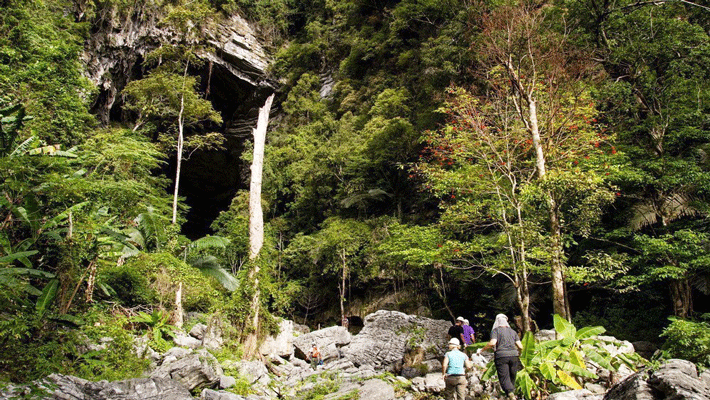 Afternoon: Tan Hoa - Phong Nha
Retrace the journey back to the entrance down the rocky valley and stop for lunch and a swim in the beautiful natural spring. Refreshed, it's then time for the big hill back up and down to the road for the pickup and return to the office for a shower. Transfer to Phong Nha arriving at around 19:00.
Adventure Level 3 · Moderate
1-day tour
Moderate trekking
6km of trekking including 1.5km of caving
Total elevation gain: 350m
Swimming in caves (Wild Tu Lan 50-150m)
There will be some rocky terrain.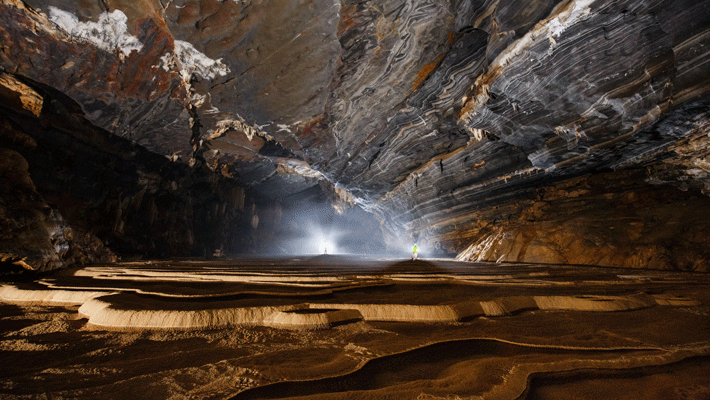 FAQs
How do I get to Phong Nha?
If you are arriving from oversea, there are two main international airports connect with Dong Hoi Airport: Noi Bai International Airport (Hanoi Capital) in the north and Tan Son Nhat International Airport (Ho Chi Minh City) in the south. There're many daily flights connecting between 2 main airports with Dong Hoi Airport. From Dong Hoi airport you can get a taxi or shuttle bus to Phong Nha which takes around 45 minutes. You can choose other means of transportation. From Hanoi, Ninh Binh, Hue, Da Nang, Hoi An to Phong Nha by sleeper bus, or to Dong Hoi City by train. If you are planning to our tour once arrived in Phong Nha then please make sure your bus/train arrives before 6:00 am to take your tour on time.
If your arrival time is too early, please contact us to get a FREE dorm bed at Oxalis Home to have a few hours rest before taking the tour. We have gathered all information regarding arrival and departure in the link below, please check for more details.
The weather in Phong Nha is quite mild and divided into 4 main seasons.
• Mid-November to early March: the weather is quite cold, the temperature ranges from 12-15°C;
• Mid-March to late June: dry season, quite stable weather, light showers, temperatures in the range of 22-38°C (May to June is usually the peak heat wave, the temperature can rise up to 38 degrees);
• Mid-July to mid-September: hot season, increased rainfall, temperature ranges from 25-35°C.
• Mid-September to mid-November: rainy season, usually with prolonged heavy rain, possible flooding.
(For safety reasons, Oxalis Adventure closes all tours during this time every year).
In addition, typhoons, droughts or floods may occur in Phong Nha if the weather conditions are erratic. Prior 1 day to your arrival to Phong Nha, you can conveniently check the weather forecast and prepare for your trip accordingly, here: accuweather.com
This website shows an approximately accurate weather forecast of the area.
My child (under 16 y/o) is accompanying me. Can they join the tour?
If your child is in the age bracket of 11-16 y/o, we offer a private tour option. Feel free to contact our adventure consultant team for assistance in this regard.
 Where would the excess luggage be kept and how much luggage would the porters carry on tour?
Your luggage will be kept at the offices in Phong Nha and Tan Hoa. For high-value belongings, please inform the staff, so that it can be stored safely in the locker.
With 1-day tour, guests' items are not too many, so safety assistants can assist guests. In case guests have a lot of items, they will prepare a medium-sized backpack (type 15-20L) and bring it on their own during the journey.
For 2-3 day tours, guests' equipment used at the camp will be supported by Oxalis porters, the maximum weight is 3kg / person / tour. The daily necessities will be brought by guests, Oxalis provides floating backpacks for visitors to Tu Lan and Hang Tien tours, guests prepare their own medium-sized backpacks (type 15-25L) when participating in Hang En and Hang Va.
Similar provisions for the Tu Lan 4-day tour, however, luggage used at the camp has a maximum weight of 5kg / person / tour.
What if I am a solo traveler, can I join a group?
Solo travelers are most welcome and make up a large percentage of most groups.
Why do I have to sign your Release Form?
We require customers to sign our Release Form to confirm they accept this is an adventure tour and they have to follow our guide's instructions and safety rules. Customers also accept they have some responsibilities for their own safety.
I often trek with sandals and they work well. Can I wear them on this tour?
With diversified terrain and from our experiences, sandals are not recommended on our tours. We highly suggest you prepare the trekking boots/shoes which cover all your feet and have good gripping to do the tours, as the terrain is rocky, slippery and sometimes muddy.
VIET GREEN LUXURY TRAVEL
Address: 102 H50 Alley 41/27 Vong Str, Ha Ba Trung Dist, Hanoi
Quang Binh - Branch Office
Add: 64 Hoang Dieu, Dong Hoi, Quang Binh
Core activities: Luxury Indochina Tours, Vietnam Luxury Tours, Vietnam Adventure Tour, Vietnam Helicopter & Seaplane Tour, Laos Balloons Tour, Marathon Tours, Caves Expedition & Adventure, Cruise Tours, Hotel Booking, Meeting, Incentive, Conferences, Event, Car Rental, Visa Renewal & Extension
CALL US 24/7
>>>READ MORE